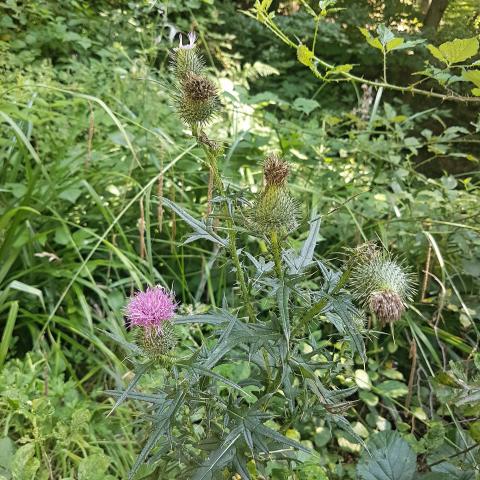 Silybum marianum is an annual or biannual plant of the Asteraceae family. This fairly typical thistle has red to purple flowers and shiny pale green leaves with white veins. Originally a native of Southern Europe through to Asia, it is now found throughout the world.
It grows 40 to 100 cm tall. The stem is grooved and more or less cottony.
The leaves are oblong to lanceolate. They are either lobate or pinnate, with spiny edges. They are hairless, shiny green, with milk-white veins. The flower heads are 4 to 5 cm long and wide, of red-purple colour. It flowers November through to March depending on the area.
The medicinal parts of the plant are the ripe seeds.
Sillybum is mentioned as a thistle-like medicinal plant as early as Pliny and in Dioscorides' Materia Medica. The name derives from the Greek sillybon or silybos, meaning 'tassel' or 'tuft'. The species name marianum comes from the Latin and refers to a legend that the white spots on the leaves of this species of thistle came from the milk of the Virgin Mary nursing her child whilst fleeing to Egypt.
Avilable photo size for
width: 3024 px
height: 4032 px